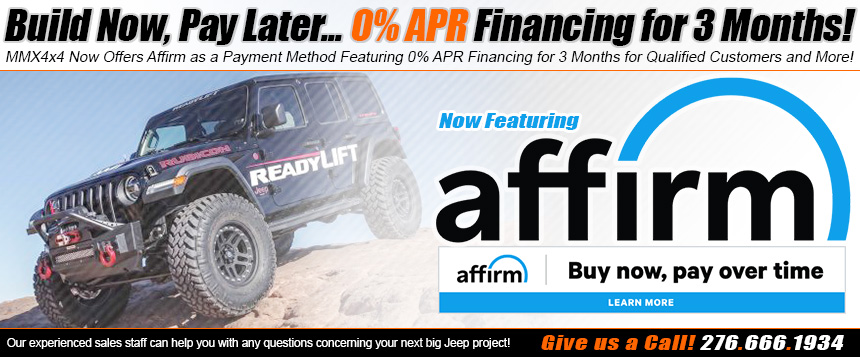 MMX
4x4

.com and the Affirm Payment Option

MMX is proud to offer the Affirm service as a method of payment. Affirm is a top notch company offering their customers a means to make the purchases they want, when they want. Not only that, they also provide a flexible payment schedule, NO LATE FEES, NO PENALTIES of any kind, ever. Affirm tells you what you will pay up front and that number will never change. To learn more, click here!
Its
EASY

to use Affirm with MMX4x4... See Below

To use Affirm to make a purchases with us, you must have an Affirm account. You can either signup at www.affirm.com or we will direct you to their site when its time to checkout. Simply browse our parts as normal and when you find what you want, simply add to cart. Your total cart price must be at least $1000.00 to use Affirm as a payment option. When you get to the "Payment" step, simply select the "Affirm" option!

Now you will be sent to the Affirm site to either login, if you have an account, or create a new account! Simply login and confirm your purchase and thats it... You're done and your parts will be prepared for shipping.

We greatly appreciate and value your business, and to show it, we are excited to provide more flexibility when it comes time to purchase the parts you require for your hot rod build. This includes 0% for 3 months for those who qualify, and with TAX returns just around the corner, it is the perfect time to move forward on your HEMI project.