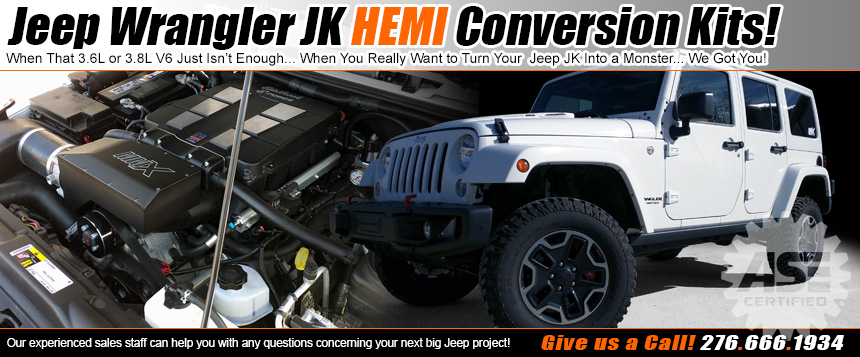 This is where we are DIFFERENT than any other Jeep shop in the country. We have almost two decades of Gen3 HEMI experience.
This includes putting these industry defining power plants in many vehicles that didn't come off the factory line with them... This monster HEMI V8 upgrade for your Jeep JL is turnkey from start to finish. Simply give us a call when you are ready high horsepower upgrade and we will schedule your date our cutting edge facility in Southwest Virginia.
Jeep Wrangler JK 6.4L HEMI Conversion by MMX4x4
This price includes EVERYTHING from A to Z for a turnkey install of the 6.4L HEMI v8. From our professional installation and custom dyno chassis tuning, to all of the other necessary parts, pieces and accessories to make this ultimate transformation!
We only install these AMW4x4 HEMI conversion kits in house to guarantee the highest quality fitment and custom chassis dyno tuning and HEMI related services UNMATCHED on the east coast of the US. This kit price includes everything from start to finish as well as installation. You bring it to us as is, and we send you home in a HEMI powered trail buster.
If you are considering this performance package for you Jeep be sure to take advantage of our decades of Gen3 HEMI experience. Call today!
This Kit Includes:
Ported SRT8 6.4L Air Intake Manifold  
Engine Cradle Mount Kit w/ Skid Plate Revision 
Heavy Duty Transmission Crossmember
Transmission Mounting Kit
Steering Column Correction Adapter Kit
Aluminum Cross-Flow Radiator
Upper & Lower Radiator Hose Kit
Coolant Overflow Jug
A580 NAG1 SRT Transmission Cooler Lines
Mandrel Bent Air Conditioning Line Kit
Power Steering Cooler Kit
Power Steering Line Kit
Oversized Fuel Supply Line Kit
Front Coil Spring Correction Kit
Mandrel Bent Stainless Steel 3" Performance Exhaust System
Cold Air Kit w/ Induction Dryflow Synthetic Filter
Battery Tray w/ TIPM Bracket
GEN2 Powertrain Harness: BOX A
GEN2 A580 NAG1 Automatic Transmission Harness: BOX B
A580 NAG1 Automatic Transmission Powertrain Control Module: PCM
A580 NAG1 Automatic 91+ Octane Performance Calibration
A580 NAG1 Performance Transmission Control Module: TCM 
A580 NAG1 Automatic Performance Calibration