A simple 20 minute install will give you a good increase in power. The aFe POWER SCORCHER GT Module includes a high quality case & wire harness with factory style connectors for an easy plug & play installation. The case is equipped with an ON/OFF button and a blue L.E.D. light to indicate when the module is powered up. This performance module connects to and alters Manifold Air Pressure (MAP) and Intake Air Temperature (IAT) sensor signals. It improves vehicle performance and throttle response. In testing, this module resulted in +18 horsepower and up to +17 lbs. x ft. of torque verified on our in house dyno.
Direct Plug & Play Power:
This quick and easy plug & play SCORCHER GT module adds significant power by altering MAP and IAT sensor signals to increase performance and improve vehicle efficiency and throttle response.
High Quality Case & Wire Harness:
aFe POWER SCORCHER GT modules uses high quality aluminum extrusion black powder-coated enclosure casing and factory style connectors which requires no modification to your factory harness. These factory style connectors, plugs directly into the stock wiring harness connectors and sensors.
ON/OFF Button on the case:
This module comes with a built-in blue L.E.D. light to show the module is powered up and functioning correctly. It can be turned on and off easily thanks to the button on the case. The blue L.E.D. light will be on when the module is powered up
High Precision and Quality:
SCORCHER GT modules are 100% tested for proper protection. These modules work amazingly on stock vehicles and are optimized for maximum performance with use of aFe POWER performance products.
Emissions Disclaimer:
This product is not currently CARB exempt and is not available for purchase in California or for use on any vehicle registered with the California Department of Motor Vehicles.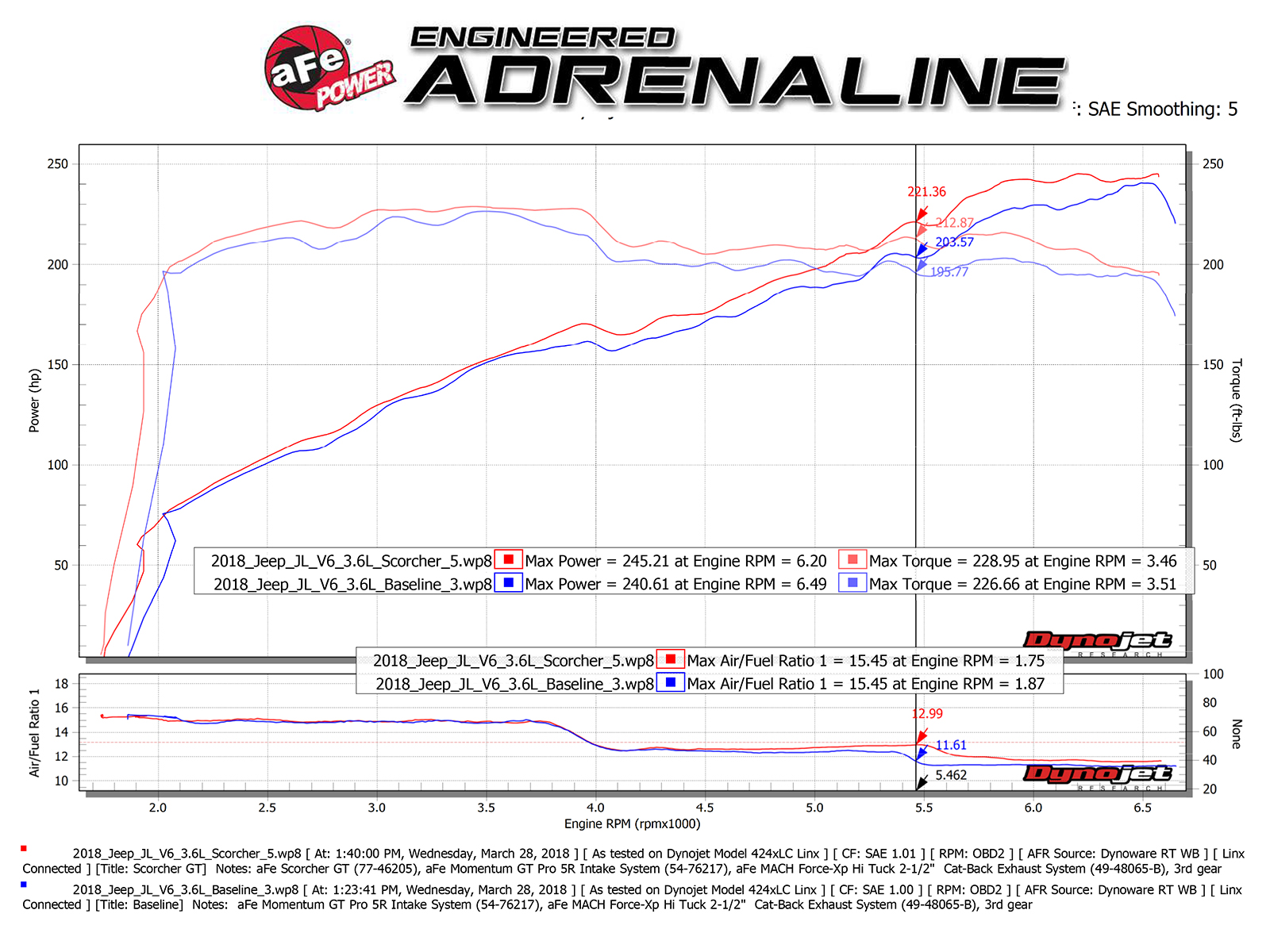 2012 - 2018 Jeep Wrangler JK 3.6L v6